Inject Hope
Putting a human face to addiction
A change of epidemic proportions
When Ohio's Hamilton County Heroin Coalition came to us for help getting its message out, organizers expected an ad campaign. What they got was an entirely new way to fight addiction—and a community-wide infusion of hope.
Bringing it home
Nearly half of the area's residents know someone directly affected by heroin use; many research participants acknowledged feeling fearful and helpless around the epidemic. At the same time, they spoke of addiction as a far-off problem involving strangers. This disconnect between perception and reality gave us a springboard for shifting the conversation.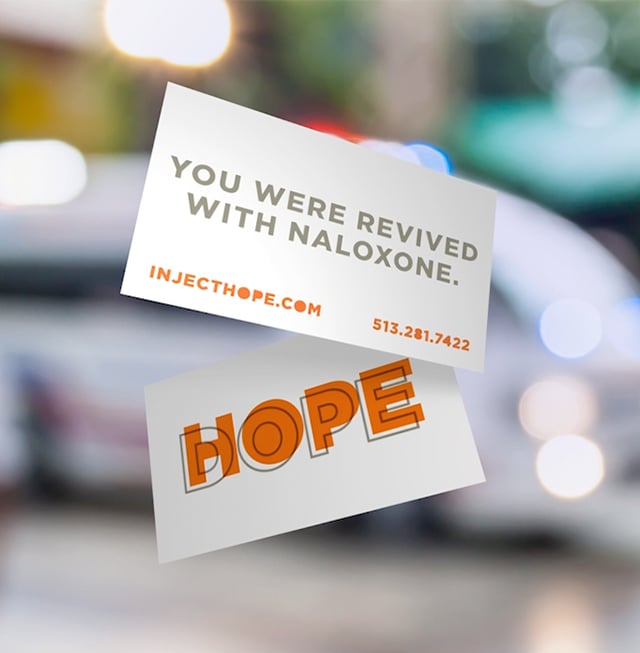 An infusion of hope
Landor took a vastly different tack from the typical fear-driven campaigns that demonize addicts. We chose instead to educate residents and inspire action through a layered identity system called Inject Hope.
The addict next door
Putting a human face to the epidemic lies at the center of this approach. Powerful multilayered graphics foster awareness of heroin addicts as ordinary people—coworkers, friends, neighbors, relatives—who need help. With understanding and compassion replacing fear and judgment, community involvement has risen dramatically.
Support goes viral
Following Hamilton County's initial pledge of more than $2 million in annual funding, the Inject Hope Regional Collaborative has successfully continued its fundraising for education, treatment, and prevention.
The movement has gathered strong support in Ohio, Kentucky, and Indiana, with six more counties recently joining. Dozens of local groups have come together under the program's banner to coordinate resources and inspire those in the fight against heroin addiction.
Inject Hope was honored with three gold Addys and two Judge's Choice awards at the local and district American Advertising Awards.