Brute
Crafted by the elements
Wine intelligence: a data-driven brand identity for grapes grown in wet, windy and wild Hamburg
Stormy, rainy, unpredictable. Hamburg is the last place on earth you'd think of for producing wine. Enter Leon Zijlstra and Jörn Andresen. Two grape growers with the necessary expertise and sheer madness to dare to produce a wine in such a wet, wild and windy place. Their goal: to introduce a Hamburg wine to the highly competitive, pretentious and conservative German wine business, where tradition and location drive purchase. Our challenge: create a brand, story and packaging to launch Hamburg's first-ever commercial vineyard.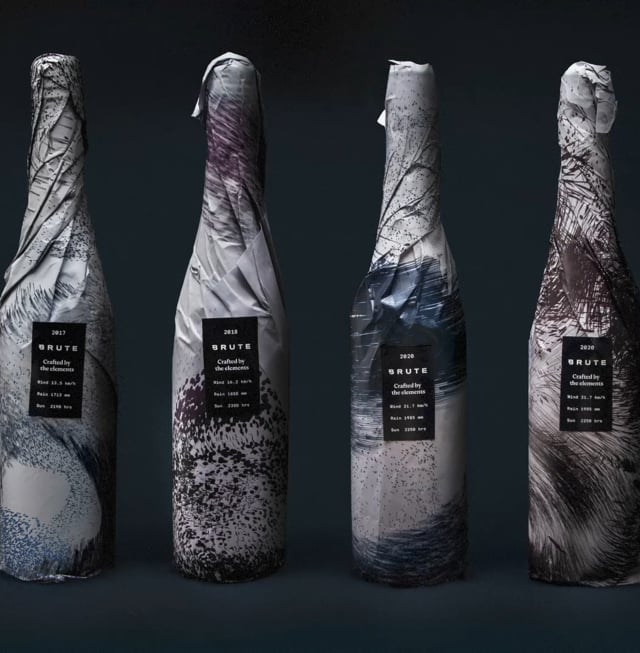 The weather shapes the wine, we used it to shape the brand
Just like our two pioneering grape growers, we decided to work with what the weather gives us. We embraced the unpredictable gales, hailstorms and storm surges of the Hanseatic climate and created Brute, a wine crafted by the elements. A wine that throws all rules and traditions overboard, embracing the volatile environment instead of fearing it. The brutal Hamburg weather shapes the wine. So we used it to shape the brand.
To fully embody the creative idea of "Crafted by the Elements" we asked our client to store the empty bottles outside in the vineyard throughout the growing season, allowing the harsh Hanseatic elements to shape the character of both the grapes and the bottles.
An algorithm to capture the weather
To create an authentic weather-powered brand experience, we built an online algorithm to capture the Hamburg weather and generate an evolving visual expression that reflects the conditions in real time. At the click of a button this online tool enables the client to generate an infinite palette of relevant brand touchpoints that can be shared on social media and through urban advertising. The algorithm captures data throughout the growing season and generates packaging that expresses the brutal conditions that craft each vintage. As the wine evolves with the climate, so does the brand.
Pushing the boundaries
Brute is disrupting the entrenched attitude of the German wine industry that says good weather equals good wine. The Brute experience is shifting consumer perceptions: No longer are Hamburg wines undrinkable and unsellable, they are uniquely crafted. Brute has been widely celebrated by the Northern wine community as a local underdog brand—attributes highly prized in socially progressive Hamburg.
Design awards
Shortlisted at the 2018 Cannes festival in the Brand Identity category, Brute won a Red Dot Design Award for Brand Design and a "Special Mention"in the Brand Identity category at the German Design Award. Brute also recently captured Gold in the WPPed cream award in the Packaging/Brand category.