Australian Open
Changing the game
Serving up a winner
One of four Grand Slam tennis tournaments held annually, the Australian Open is both a revered tradition and a chance to view thrilling play. With a passionate fan base numbering in the hundreds of thousands, the Open has evolved from a standard sporting event into a larger festival experience that takes over the city of Melbourne each year.
Its look and feel, however, remained dated. Tennis Australia wanted a new identity to reflect the Open's transformation into a future-focused entertainment brand.
A smashing identity
We set out to revitalize the brand, taking "A" and "O" as core components for a new visual identity. Used as geometric symbols, the stylized initials convey energy and motion. As letters, they star in playful word animations.
An identity in action
Putting it in play
The flexibility of the visual system makes it easily adaptable to a variety of applications, from digital graphics and social media to tickets and merchandise.
Game, set, match
The new brand identity engages audiences and helps to make the world of tennis accessible anytime, anywhere. Fans post upside-down selfies from the Land Down Under. Kids have their faces painted to show support for their favorite players. Live music, gourmet food, and evening sound-and-light shows contribute to the festive atmosphere in true Aussie spirit.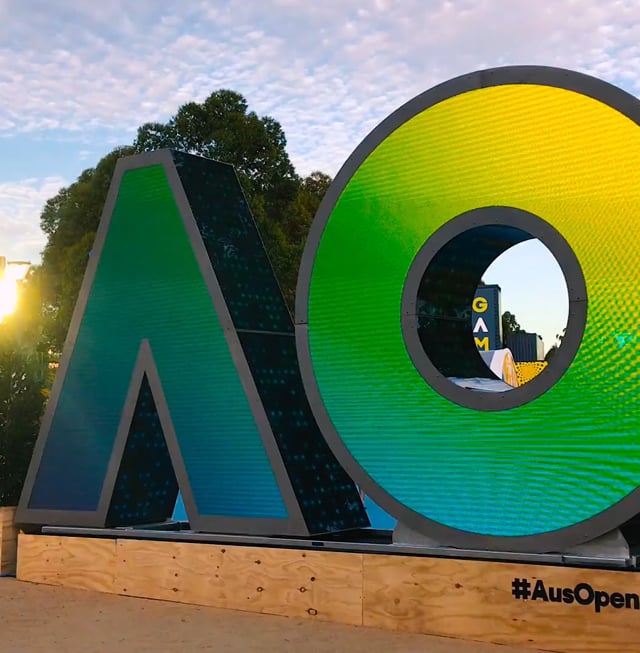 Ticket sales and attendance for the Australian Open smashed prior records, hitting an all-time high.
Day one of the tournament broke the 500,000 attendance mark for the first time ever. Web traffic increased 9 percent, and the AO Festival and Open Sessions attracted a combined 125,000 fans.