Landor partners with Airbus to create NAVBLUE
PARIS (20 October 2016) — Landor Paris has partnered with Airbus Group to create NAVBLUE, a new specialty flight operations and air traffic management company. NAVBLUE's human-centric approach differentiates it in an industry often focused only on technological precision. 
Reinventing the category
 "When you create a brand in a category as complex and sophisticated as flight operations and air traffic management, it can be tempting to be content with celebrating your own technological savoir faire like other companies in the sector," noted Luc Speisser, managing director of Landor Paris and Geneva.
But Airbus Group's ambition is to go further.
By combining the pioneering spirit of Airbus with the agility of Navtech—a leading global provider of flight operations solutions that Airbus acquired in 2015—NAVBLUE creates a truly user-centric brand. This brand aims to use technology and expertise to facilitate a redesigned user experience in flight operations and air traffic management—one that is efficient, reliable, and simple.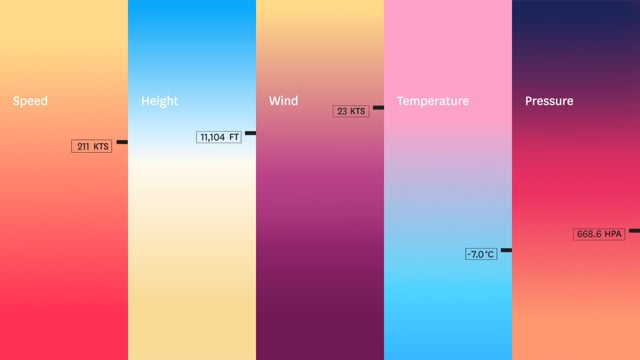 Luc Speisser elaborated, "Reinventing the category means recognizing that data, as powerful as it can be, only makes sense when combined with human intelligence. For this reason, Landor created a brand that puts the user at the heart of the technology." 
Putting emotion back at the center of technological precision
After a detailed study of the brand's target audiences, Landor uncovered a key attribute that unites them: A need for exacting scientific rigor—since the smallest mistake in flight can cost so many lives—combined with a limitless passion for aviation. The place where both rigor and passion meet: the sky. To convey Airbus's ambition, Landor helped define its brand promise, creating a tagline for the brand: Reach for the skies.
A consistent and powerful brand
Using Airbus' brand promise as inspiration, Landor created a full brand experience for the new brand:
Name: NAVBLUE
Visual identity: An ever-changing sky showing infinite possibilities of color and intensity, where data meets emotion.
Digital activation: To convey the idea that the sky—like every individual—is unique, Landor developed the Sky Generator. The app allows anyone—from employee to client—to create a unique personal sky image generated from their own individual data.
Photographic style: Turned toward the sky, with the management team looking upward, NAVBLUE's imagery is a far cry from traditional corporate photography.
Website navigation: Focused on upward trajectory, an upward scroll action replaces the usual downward website scroll.
A brand created and launched in record time
The launch of NAVBLUE by Airbus Group took place on 12 July 2016 at the Farnborough International Airshow, exactly 73 days after the budget was awarded to Landor. That is barely two months to define the positioning and create a brand experience deployed on all touchpoints: visual and verbal identity, brand and product architecture, communications (print advertising, social media, PR), brand collateral (including a unique business card for each employee), corporate and commercial websites (content, design, and development), events, and activations.
Mike Hulley, president and CEO of NAVBLUE, commented on the launch of the brand: "Faced with this timing challenge, Landor has created a unique and innovative brand. The success of the launch, both offline and online, is testament to its work."
Download visuals here.
For more information contact: 
Hanna Berthaut
Marketing Coordinator
hanna.berthaut@landor.com
+33 (0)1 5334 3252
 About Landor:
A global leader in brand consulting and design, Landor helps clients create agile brands that thrive in today's dynamic, disruptive marketplace. Our work enables top brands—from Barclays to BMW and Tide to Taj—to stand for something while never standing still.
Landor's branding services include strategy and positioning, identity and design, motion graphics, brand architecture, prototyping, innovation, naming and verbal identity, research and analytics, environments and experiences, engagement and activation, and interactive and media design.
Founded by Walter Landor in 1941, Landor pioneered many of the research, design, and consulting methods that are now standard in the branding industry. Today, Landor has 27 offices in 21 countries, working with a broad spectrum of world-famous brands. Clients include Accor, Airbus, Bayer, BBC, BMW, BP, Citroën, Danone, Etihad Airways, International Hotels Group, Procter & Gamble, Russian Copper Company, and Tata Group.
Landor is a member of WPP, the world's largest marketing and communications firm. For more information, please visit Landor.com and follow Landor on LinkedIn, Facebook, Twitter, and Instagram.
© 2016 Landor. All rights reserved.